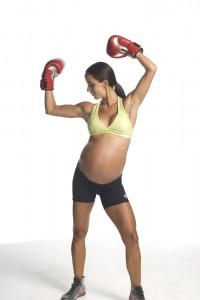 Erika Boom is the founder and pres­i­dent of the Belly-n-Kicks™ (B-n-K™) pro­gram, based in Miami FL. She is an ACE cer­ti­fied per­sonal trainer as well as a DTP® cer­ti­fied pre/postnatal fit­ness trainer. Erika – an accom­plished ath­lete – has been actively involved in the fit­ness indus­try help­ing hun­dreds of women for more than 10 years. Recently, Erika became a mother, gain­ing first-hand expe­ri­ence with her own B-n-K™ pro­gram!
Web­site: www.belly-n-kicks.com
Face­book: https://www.facebook.com/pages/Belly-n-Kicks/
What I most enjoy about my work is that we are empow­er­ing women in the most vul­ner­a­ble point in their life. I also love the fact that the health ben­e­fits of exer­cise are mul­ti­plied by two.
Our bod­ies are per­fect machines and we are strong human beings capa­ble of mul­ti­task­ing. I started doing a bul­letin to nom­i­nate some "femmes extra­or­di­naire," and I could fit in ALL of my clients!
I am in the process of writ­ing and review­ing the B-n-K™ Train­ing Man­ual. I am also mov­ing in the direc­tion of fran­chis­ing the B-n-K™ Methodology.