New Teacher Item!
Order your DTP — Total Preg­nancy Fit­ness Cer­ti­fied Pre/postnatal Fit­ness Instruc­tor T-shirt today! Only avail­able for DTP cer­ti­fied instruc­tors! Let peo­ple know you are a qual­i­fied pro­fes­sional in pre/postnatal fit­ness.
Cost: $25 plus $5 ship­ping. Short sleeved, dark blue edg­ing on col­lar and sleeves! Sizes run small, so order up.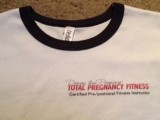 Renewal of Teacher Certification:
The "perks" of renewal include.…
con­tin­u­ing education
main­tain­ing pro­fes­sional cred­i­bil­ity and practices
pres­ence in "Take a Class" list­ing on the DTP web site: loca­tion, phone, e-mail
hyper­link to your web site, if you have one
refer­rals for spe­cial projects in your area from the DTP con­sult­ing office
Con­stant Con­tact newslet­ter, fea­tur­ing research updates, news for instruc­tors, exer­cise tips
This site has a solid and increas­ing vis­i­ta­tion rate -  in 2010, there were over 35,000 hits a month; so far in 2011, we are aver­ag­ing over 43,000 hits per month.
Vis­i­tors spend longer on our site than the inter­net aver­age, look at 4.5 pages on aver­age & often visit Take a Class.
Renewal Pro­ce­dures:
Renew every 2 years by Decem­ber 15–even years if cer­ti­fied in an even year; odd years if cer­ti­fied in an odd year.
You may renew at any time dur­ing the year and should do so now if you have not renewed for the last 2 years.
Method #1:
Attend a one-day Practicum.
Reg­is­ter by phone, through the mail, or con­tact director@dancingthrupregnancy.com.
Fee: $45.  Reg­is­tra­tion Form
Method #2:
8 con­tact hours or 0.8 CEUs on a related topic or top­ics (exam­ples: nutri­tion for women, another pre/postnatal cer­ti­fi­ca­tion, pub­lic health, core body strength, etc.)
From: a major con­tin­u­ing edu­ca­tion orga­ni­za­tion or a college/university course
Fee: $45, first renewal: $35. Pay­Pal or check made out to DTP, Inc. AND copies of CEU cer­tifi­cates to:
DTP, Inc.
Box 3083
Stony Creek, CT
06405–1683
or doc­u­ment or pdf copies emailed to the director.
Method #3: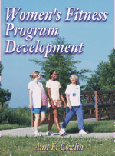 Take the cor­re­spon­dence course. Only avail­able to those orginally cer­ti­fied prior to 2002 who have not pre­vi­ously used this method.
Step 1) Read the text­book, chap­ters 1 and 5 — 11
Cowlin, AF. 2002. Women's Fit­ness Pro­gram Devel­op­ment. Human Kinetics.
Order from humankinetics.com or amazon.com.
Step 2) Order cor­re­spon­dence mate­ri­als (study guide and exam) from DTP, Inc.
Fee: $45. Pay­Pal or send check to:
DTP, Inc.
Box 3083
Stony Creek, CT
06405
Step 3) Study, take exam, send in exam, and receive cer­ti­fi­ca­tion by return mail.
If you have any ques­tions, director@dancingthrupregnancy.com or 203–481-2200.