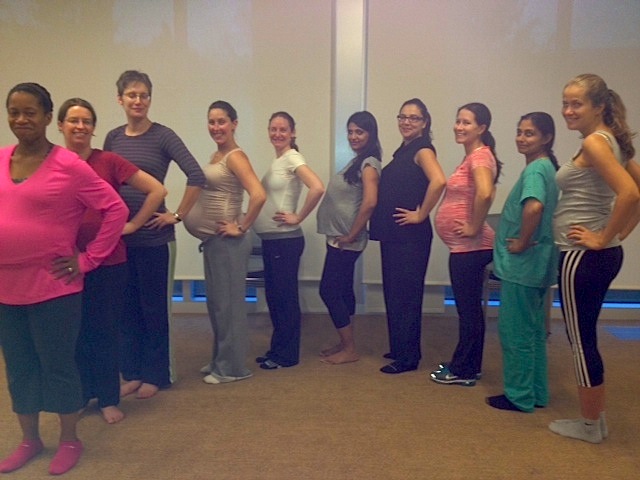 In the con­tem­po­rary world, we are not as active as pre­vi­ous gen­er­a­tions. Few women exer­cise to the extent required to develop the capac­ity to with­stand the rig­ors of birth. It is lit­tle won­der that so often what child­birth edu­ca­tors hear from preg­nant moms is that they are afraid of birth and don't have con­fi­dence in their abil­ity to do it. There are solu­tions for these issues…
The biggest bang for the buck is aer­o­bics. This gets almost every­thing that helps you in labor:  increased endurance, strength and range of motion; improved breath­ing capac­ity (you get more oxy­gen + less fatigue) and reduced need to tap your car­diac reserve (your body works hard but not to the degree it must if you are not fit); and men­tal tough­ness that gets you the con­fi­dence you need that your body is capable.
Learn­ing use­ful posi­tions is extremely help­ful. If you are active be sure that your work­out includes such things as squat­ting and other move­ments that aid your progress in labor. Being upright and mov­ing are keys to a healthy labor.
Men­tal focus and being present teach you to work with your body. Activ­i­ties such as yoga, pilates for preg­nancy and dance help you develop the men­tal skills that accom­pany your move­ment. Learn to rec­og­nize your body's sig­nals to you when it's time to push.
Keep moving…right into labor and birth!  Take a Class!